PCM390 Universal Pressure Transmitter
Features
■ Compact structure
■ Digital circuit compensation
■ Strong anti-interference, good long-term stability
■ Small diameter, small size, easy to install and use
■ Can measure absolute pressure, gauge pressure and sealed gauge pressure
■ A variety of electrical connections
■ Liquid contacting diaphragm 316L
■ Suitable for mass production
Applications
■ Air compressor
■ Hydraulic and pneumatic equipment
■ Servo valves and drive
■ Air conditioning systems
■ Piping systems
PCM390 pressure transmitter is specially designed for small and medium equipment applications such as booster pumps and air compressors. It is also applicable to a wide range of industrial applications, with a variety of structures, output forms and pressure connections to meet the requirements of most applications. PCM390 is designed with compact structure which especially applies to the installation in small space.
Product Parameters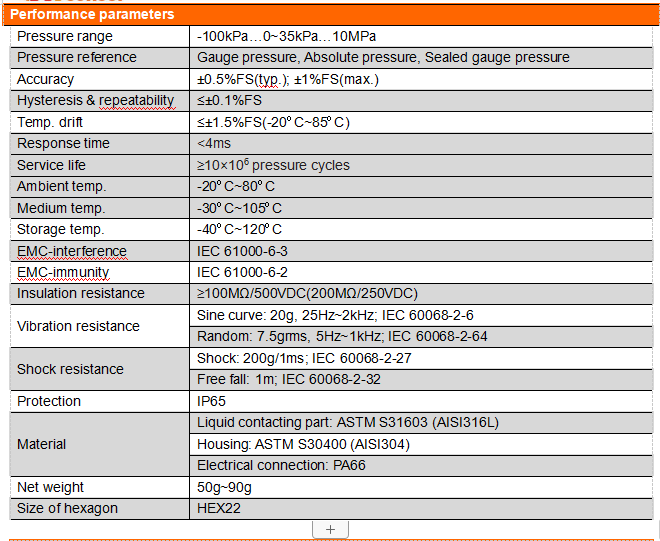 Company advantage


Mass production
We have one production center in Nanjing and one production center in Anshan with 20,000㎡plant and 170 units of production equipments. The main annual capacity of sensors is about 2,000,000 pieces.


Imported equipments
We imported 20 sets of pressure controller and 150 units of testing ovens to our production line.


Informatization management
We have the information management system of CRM, PLM, ERP, MES and DINGDING etc.


Comprehensive testing
We have our own lab and testing equipment such as lightning stroke, surging, static electricity, vibration, high-low temperature impact test and helium mass-spectrum leak detection.